The Tudors: Art and Majesty in Renaissance England is the country's first major exhibition of portraiture and decorative arts from the Tudor dynasty. Delve into the reigns of the five Tudor monarchs with a chronological presentation of rich tapestries, heirloom jewels, exquisite paintings, and other artifacts dating back to the fifteenth century. This sensational exhibition opened on June 24 and will be on display at San Francisco's Legion of Honor until September 24, 2023. Make sure to visit while you still can.
The exhibition outlines the development of art through the reigns of each Tudor monarch, starting with King Henry VII's usurpation of the throne in 1485; continuing through the reigns of Henry VIII, Edward VI, and Mary I; and ending with Queen Elizabeth I's death in 1603.
Major exhibition works
Visitors will have the chance to see ancient tapestries commissioned by Henry VII (reigned 1485-1509) and Henry VIII (reigned 1509-1547), which were colorful adornments of the Tudor palaces. Notably, Henry VII's collection also contains an eye-catching ornate velvet clerical vestment commissioned for his chapel.
Henry VIII supported artists throughout his reign including celebrated German portraitist Hans Holbein the Younger, whose portrait of the king's third wife Jane Seymour is on display in the exhibition. This section also contains Henry VIII's armor garniture and a portrait bust of Bishop John Fisher.
For the exhibition's coverage of  boy king Edward VI (reigned 1547-1553) and Mary I (reigned 1553-1558) you'll find several valuable portraits depicting Edward as a child, Edward as king, and a portrait medal of Mary I.
Elizabeth I (reigned 1558-1603) took the thrown for the second half of the century which became known as the Golden Age. In this section of the exhibition guests can marvel at the famous Hardwick Portrait and the Heneage Jewel, which depicts the queen in profile.
The Legion of Honor has also pulled several works from museum collections to join the exhibition. Fine Arts Museums conservators conducted an extensive study on a 16th century panel painting, only recently identifying the artist as Robert Peake and the subject as Frances Walsingham, the daughter of Queen Elizabeth's spymaster. There's also a collection of ornamental oak panels commissioned by Sir Edward Wotton, which have been newly conserved and will go on display for the first time since the 1980s.
About the Legion of Honor
The Legion of Honor's collections span 6,000 years, and in contrast to the de Young Museum, this museum tends to focus more on European art. The building itself might look familiar because it is a replica of the Palais de la Légion d'Honneur in Paris. Discover an exciting combination of painting, sculpture, ancient art, contemporary art, and decorative works throughout the galleries.
The Legion of Honor offers free admission for Bay Area residents every Saturday. Reserve online and redeem your free admission on site with a driver's license or postmarked envelope. Non-residents can get free admission on the first Tuesday of every month. Free admission is also available for EBT or Medi-Cal cardholders via Museums for All; for SF Public Library cardholders via Discover and Go; and for Bank of America, Merrill, of Bank of America Private Bank (U.S. Bank) cardholders on the first full weekend of every month.
Find the Legion of Honor at 100 34th Avenue in Lincoln Park, San Francisco. The museum is open from 9:30am-5:15pm Tuesday-Saturday and 10:30am-5:15pm on Sundays.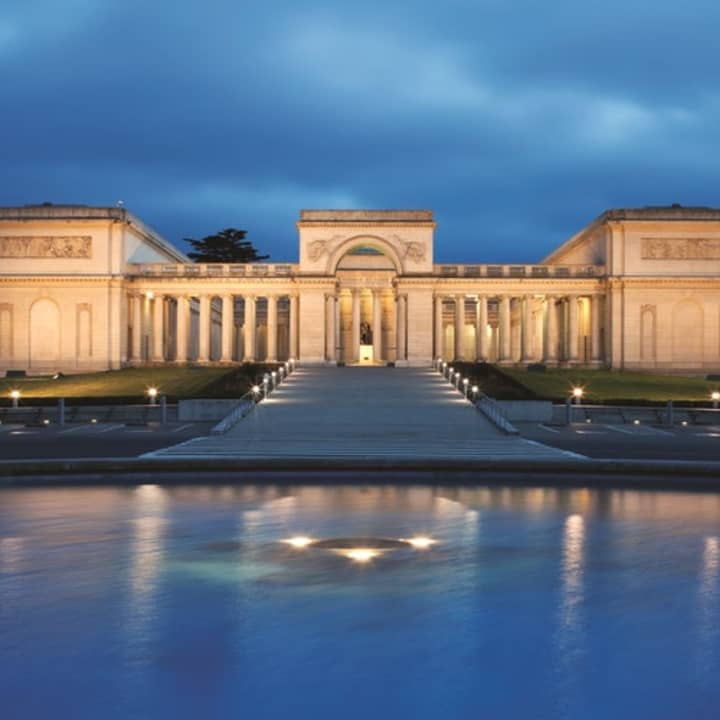 Legion of Honor Admission
---